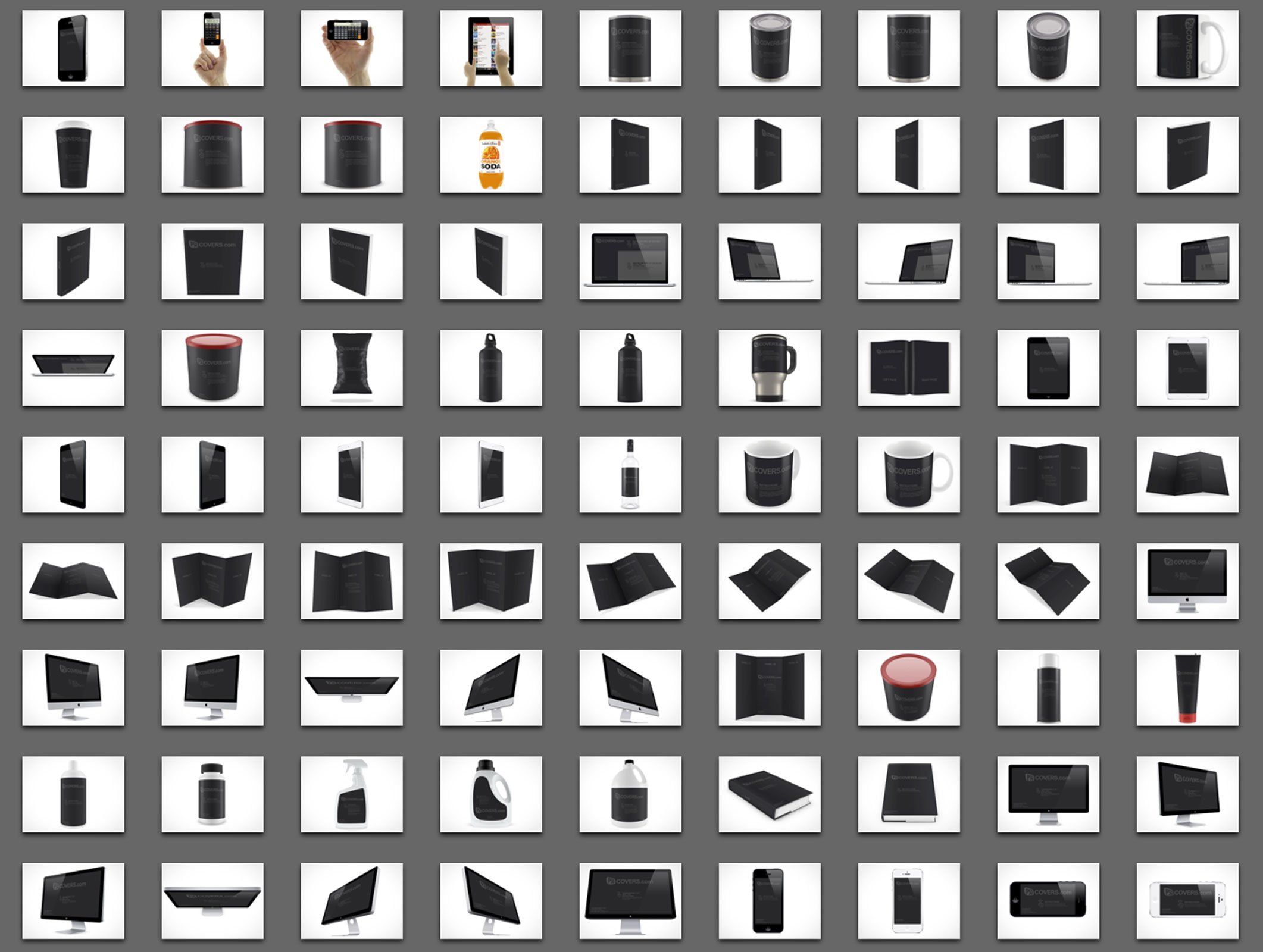 Over 100 Free Mockup Templates and Designs for Brand and Graphic Designers
PSD Mockup Designs Boost Your Productivity
For most designers, the effort of creating great work comes in the form of working in 2D for hours or days within Photoshop. Brand designs for beverage cans, books, cereal, brochures and even software are painstakingly crafted with excruciating detail. And when the 2D design is done the effort for the presentation kicks in.
In the past these 2D designs would get printed and laminated on heavy stock paper and presented to the client or your peers. In todays world we find ourselves competing for work harder than ever so any edge we can get we should take. Enter free mockup designs. PSD Covers offers a growing library of generic product photography that has been deconstructed and saved as Photoshop Actions. Our Cover Action products remove the stress of all that extra work done at the end of the job to get your artwork from 2D to faux 3D.
Each mockup Action on this site is a photo of a generic product that we photographed ourselves — so rest assured that there are no licensing issues lurking over your work. The dimensions for all the PSD mockup Actions on this site are based on the following: For every millimeter in an objects dimension, we multiply that by 24. This leads to 100 megapixel renders in some cases which is more than enough for just about any job.
Using our free psd mockup templates, you can spend your entire time concentrating on your designs knowing that rendering your faux-3D result will take just seconds to render. The only time you'll need to set aside is for preparing your presentation.
Some previous posts you may enjoy:
Detergent Bottles
We have a wide range of PSD mockups for bottles, including detergent bottles made of plastic. These detergent bottles are based on the standard white plastic packaging you typically see on store shelves. Our Actions will render these as white by default but you may change the color to any of these psd mockups after the render is complete. Simply open the PSD template and modify the layer effects to apply your desired bottle color.

Free PSD Mockup Detergent Bottles
Soda, Wine and Water Bottles
Are you designing soda cans made of aluminum or plastic? Maybe you need a generic glass wine bottle for your school project on product branding, or maybe a white aluminum water bottle? Whatever your needs are you might be able to find it here. These PSD mockup actions will render whatever design you've made onto plastic, glass or metallic bottles. The soda and wine bottle templates support the customization the bottle color as well as the color of the liquid within it. Simply edit the PSD mockup and modify the corresponding layers which have been generated to render specific colors for the surface and liquid.

Download PSD Mockup Soda, Wine and Water Bottle
Paper Cartons
We have a small collection of paper cartons for designs that require a carton mockup for juice, milk, water, chocolate milk, coffee cream and many others. These cartons are great for brand designers that need to create visual mockups of new packaging designs. All 3 types of carton Action templates come at similar angles and positions allowing for the possibility of unique layouts when they are composited together.

Download PSD Cover Actions for Cartons
Stainless, Ceramic, Paper Mugs and Cups
Mugs and cups are two of the more popular mockup templates on the site. The mugs are a standard 11oz ceramic mug mockup that allows for your design to wrap around the entire mug except where the handle is attached. The stainless steal mug has a brushed metal look and qualifies as a thermos—your design can be rendered around the upper portion of the mug. Finally, our latest water bottle is a mockup template for portable aluminium water thermoses.

Download PSD Mockups For Mugs
Download PSD Mockups For Cups
Brochures, Flyers and Leaflets
2 panel, 3 panel, 4 panel and more. We're hard at work expanding the free PSD mockups on this site. We have a small library of 12 brochures and flyers with about 15 positions for each one, combined that makes a total of 180 leaflet mockups that are being converted to Actions.

Download Freebie PSD Mockup Brochures, Flyers and Leaflets
Mobile Hand Gestures
Not Actions, these are strictly mockups of my own hands holding an iPhone and iPad. These royalty free pictures of male hands free to use in personal and commercial projects. These hands are compatible with the iPhone 4, 4s and 5 as well as the iPad 2 and iPad 3 (including the refreshed Thunderbolt pin version). To function properly, these hands must be placed on a final rendering of your iOS app using any of our iPhone or iPad Actions.

Download Free Mobile Male iPhone Hand Gestures
Apple Thunderbolt Display
Apple's popular Thunderbolt display comes in more than 6 different angles, great for UI and app developers looking to have their software presented on a fully rendered faux-3D product shot. When composited with our Macbook Pro Retina and iOS devices you can create custom mockups of your product across multiple hardware devices.

Download Free PSD Mockup Apple Thunderbolt Display
Conclusion
Have a look around the site, we have many more Actions available — all free for personal and commercial use (learn more). We also have a large collection of PSD mockup eBooks which come in the form of hardcover, softcover, paperback and magazines!
If you're new to Photoshop Actions and mockup templates in general, we have a tutorial here to get you started. If you prefer to watch videos, we have those on our Youtube channel.