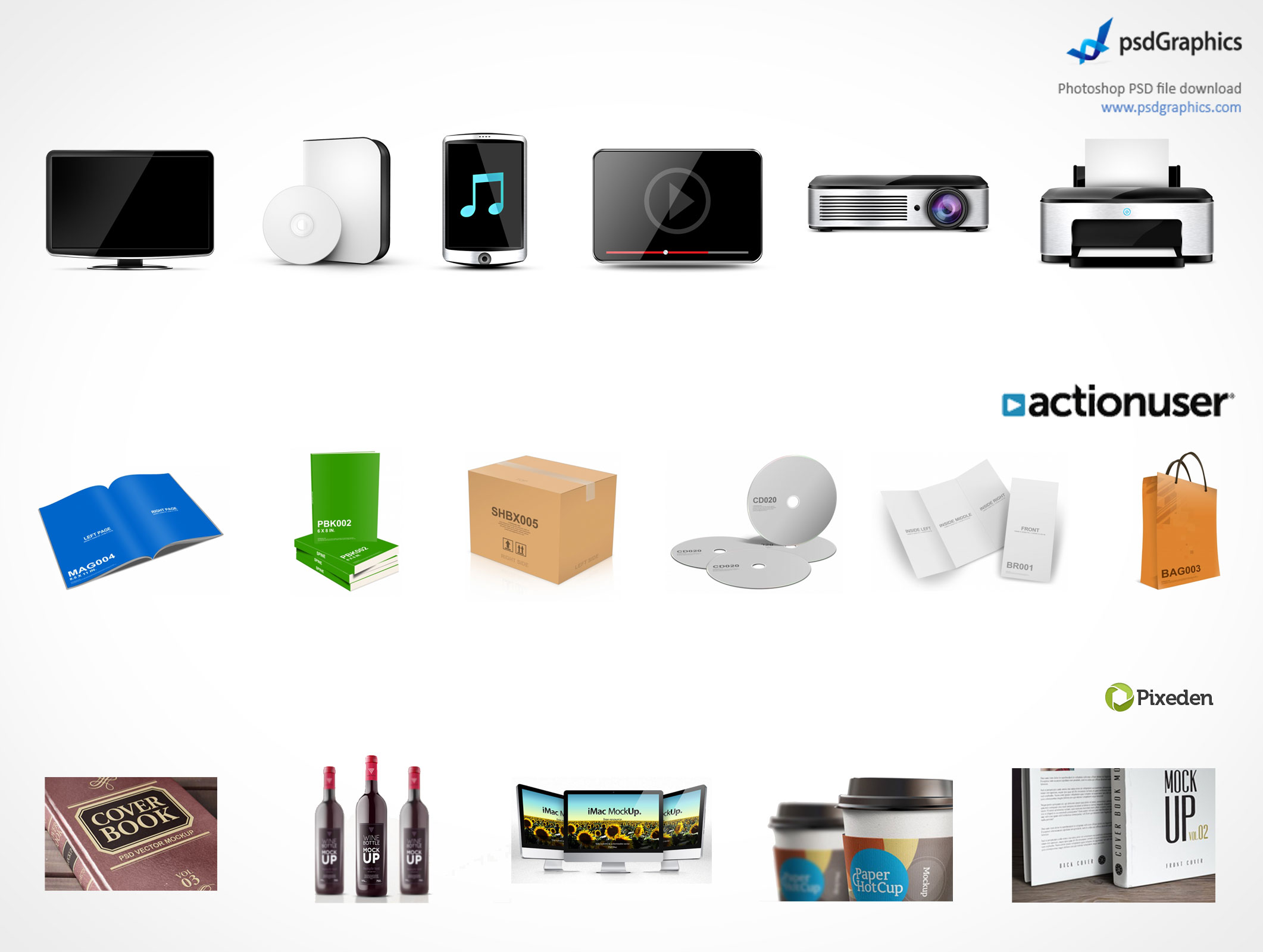 PSD Mockup Templates At Pixeden, PSDGraphics and ActionUser
Back in 2011 I registered psdcovers.com to begin a new hobby, a hobby which I would use to learn more about servers, content creation, CDNs, cache, SEO, social networking etc. But it's more than a hobby, it's a type of PSD portfolio which I use to showcase a single talent — product photography converted into Photoshop Action Covers. The PSD Actions on psdcovers are all free downloads and I'm very happy to provide them free of charge to anyone.
Brief History of PSDCovers
So how did I go about choosing psdcovers.com as a URL and brand? Well, back in 2007 I was the product designer at xtranormal.com. When I was hired the company only had some rendering technology and my job was to commercialize that effort — the result was Text-to-Movie. In our first 6 months we hit 1 million uniques per month and then 2 million per month by the end of the year. It was a crazy ride and I thoroughly enjoyed my 3 years there. The amount of time and effort we put into building the technology and the portal gave me a taste of one day running my own content portal.
So here I am, influenced partially by the thrill of xtranormal and the inspiration of the sites further down in this article. What we all share in common is the creation of content for public and commercial use (please read our terms). Some of the content we create overlaps each other but most does not, so if you can't find a particular PSD template on psdcovers.com then I recommend having a look on these other sites!
In order of appearance, the PSD Mockups above can be found using the following links:
PSD Graphics
A few years ago I became enamoured with psdgraphics.com. The site was very basic, had a few ads and offered modern day clipart in high resolution graphics with little restriction. To top it off, the site was getting monster traffic.
PSDGraphics doesn't just offer free PSD graphics, they have PSD templates as well.
If you need really polished PSD Graphics like books, banners, badges, tv's calendars, baseballs etc then head over to psdgraphics.com!
In order of appearance:
CoverActionsPro and ActionUser
PSDGraphics is where the inspiration to create this PSD Mockup content portal but the style came from Mark Monciardini at Cover Action Pro (rebranded as actionuser.com). I have a previous post with details about his Cover Actions.
Mark's site is what gave me a topic to focus on, and I had no guilt at the time creating an alternative PSD Action Mockup site because coveractionspro.com had not been updated in over 2 years. Little did I know Mark was working on actionuser.com where he continues to post free psd templates and premium Actions content. Since then I've discovered a few dozen Cover Action sites that offer premium Actions, however, most of those sites simply sell knock-offs of Mark's work so I won't mention them here.
In order of appearance:
Premium Pixels At Pixeden
I have been aware of Pixeden.com and Chris's PSD mockups and templates almost since his site opened (within 5 months of psdcovers.com). However, when Chris first launched his site I had mistakenly categorized it as another PSD Graphics type of service (ie, not specifically about PSD mockups). I thought they were "as-is" content to be used in layouts. It's only recently that I've gone back and finally understood that we're roughly offering the same kind of service and material, the overlap is uncanny but I guess we both take our cues from our requests.
Chris posts some incredibly glossy PSD templates with gorgeous sample designs (unlike my quickly cobbled samples) — I have no idea where Chris finds the time to curate such amazing work but they are truly well crafted and well presented. Pixeden.com has a three tiered structure for content: free, signup and paid. I highly recommend Pixeden.com to anyone looking for incredibly polished PSD mockups and templates.
In order of appearance: