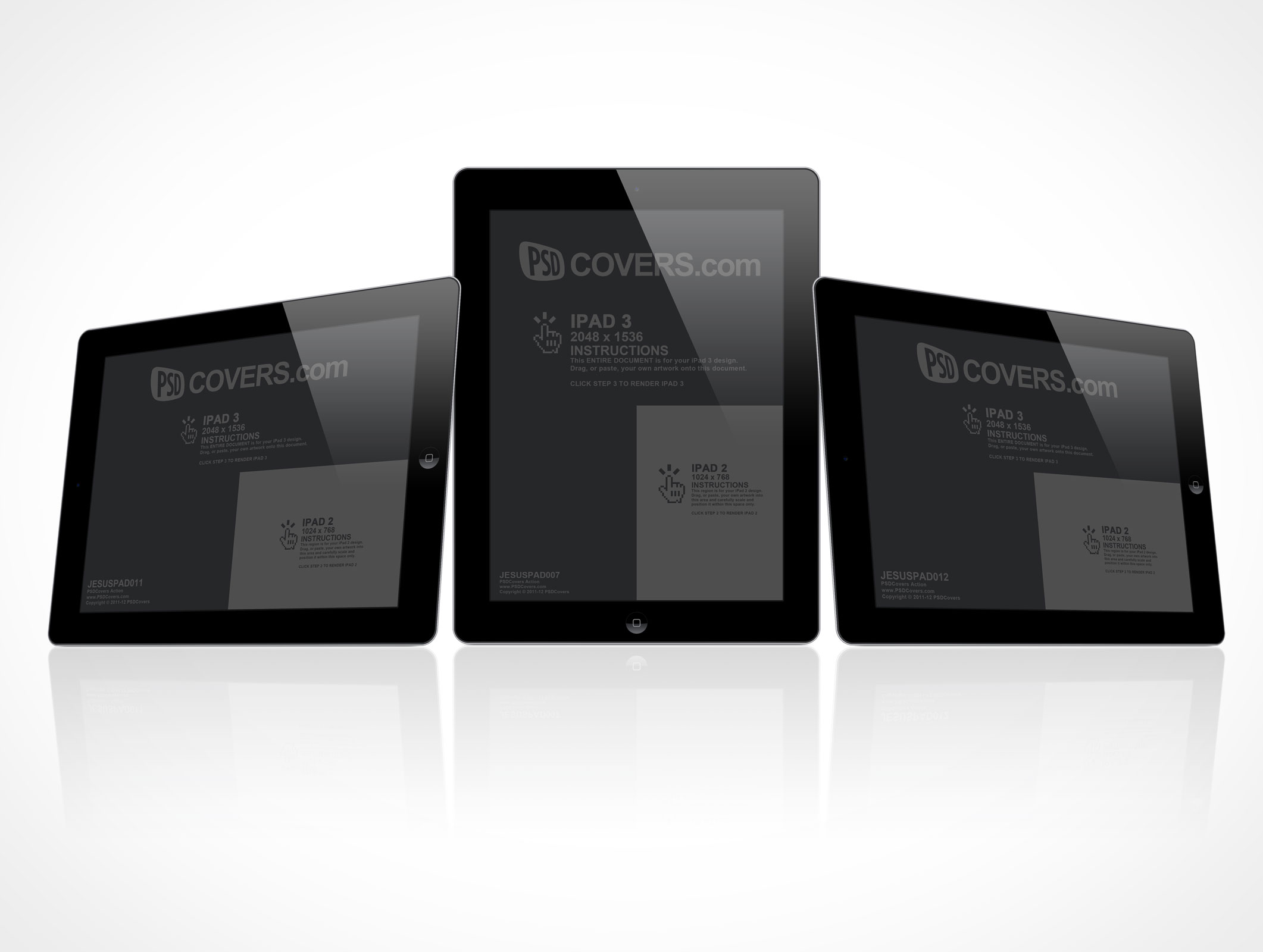 The New Apple Multi-Touch Retina Display iPad 3 PSD Cover Action
So Apple has announced the New iPad 3 and now you need to render your 2D designs as glossy 3D PSD graphics for marketing and website materials or other iPad review process. Whether you're a designer, developer or marketer our Cover Actions only require that you have 2 things…:
A 2D screenshot of an iOS application design or released app (or your hand drawn sketches for the UI/UX designers out there)
Photoshop CS3, CS4, CS5 (CS6 is not tested yet)
That's it.  Our iPad 3 Actions (JESUSPAD007 through JESUSPAD012) also support the older iPad 2 design.  The most notable difference is the thickness which is imperceptible on these Photoshop Cover Actions due to the shallow angles at which the photos were taken.  This detail makes them ideally suited for use as both an iPad 2 and iPad 3 rendering solution.
If you are not familiar with how our Cover Actions work, here's the quick and dirty:
Get a 2D screenshot of your application and open it in Photoshop
Find the angle that best suits your needs, for iPad 2 or iPad 3 that limits your search between JESUSPAD007 and JESUSPAD012 (6 Actions).
Expand the desired Action and render step 1, the template
Paste your 2D design onto the template and position it
Press step 2 (iPad 2) or step 3 (iPad 3)
Done
The video tutorial for Jesuspad007 has been added to the beginning of this post for your review if you rather view a 1 minute tutorial.  If you have never used Photoshop Actions before you may want to review this tutorial on our site.
The Actions work with 1024×768 or 2048×1536 resolutions.  All the Actions on this site follow a general rule that 1mm (millimetre) equals 24 pixels.  This ensures that each 3D rendered graphic is a very high resolution image that can be composited with other Actions on this site and will fit together perfectly.  However, when it comes to scaling another designer's iPad screens we choose the safer router and render the iPad 3 screen at 1x resolution (ie, we don't scale up your iPad 3 design, but the iPad 2 design is scaled up exactly 2X).  This was done to keep your artwork exactly (or as close as possible) to the resolution you fed into the Action.
As you can see from the featured image for this post, you can composite multiple Actions together and create layouts similar to those seen on Apple's website or do something slightly different.
You can find all our iPad Cover Actions in the Electronics category, including the first generation iPad 1.