FREE Brown 6X9 Ascension Earth Book Cover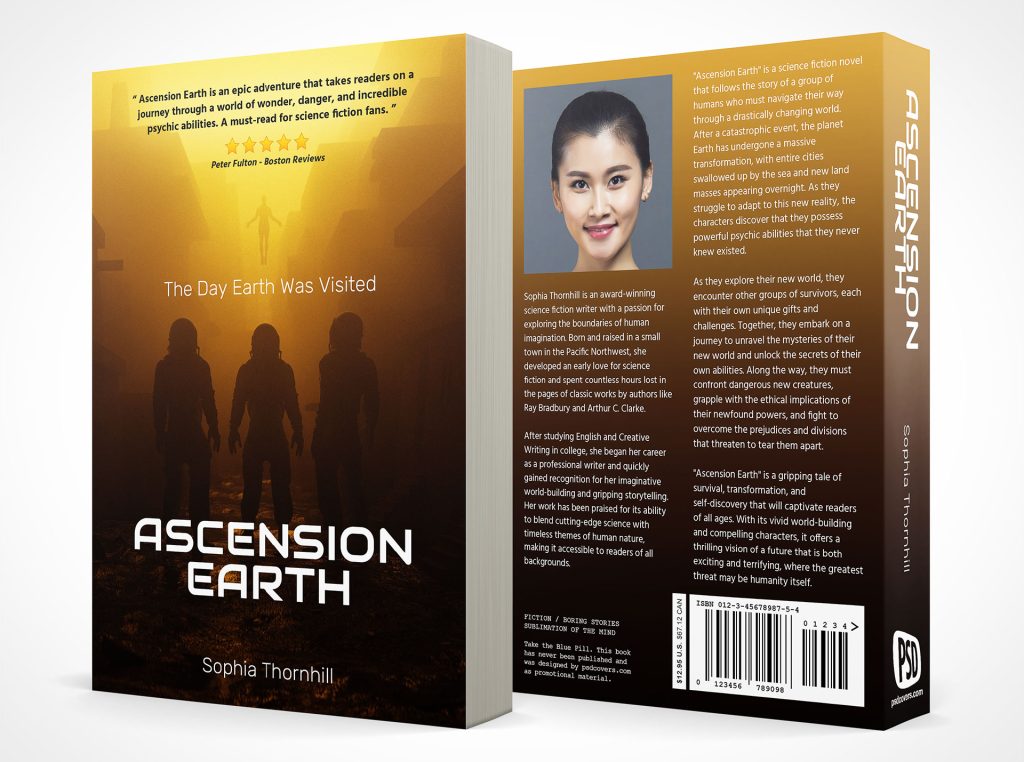 Thank you for your interest in our free brown 6X9 Ascension Earth book cover design. The template can be used as-is, or be customized to suit your own design requirements. This PSD mockup was made to showcase our free book resource but can be used by anyone with access to Photoshop.
Check out this free 6X9 Sci-Fi Book Cover design from PSDCovers for inspiration or use it as-is.
Where Can I Download This Free 6X9 Cover Template?
You can download this free 6X9 book cover by clicking the download button located below. Included in the PSD for this cover design is artwork for the back cover, spine and front of the book.
All resources used in the Ascension Earth PSD are free for commercial use. We have included links to these free resources towards the end of this post.
Which Parts Of The Book Appear In This Layout?
Each PSD book cover design we offer includes typography, illustration, photography, masks and guidelines arranged in such a way as to make your own book design process easier.
Basic margins around the book cover, spine and back cover are outlined with coloured guides. When you first open the book template you'll see a white canvas, open the Layers panel and hide the layer titled "Hide Me".
Book Cover

Title, subtitle, background imagery and author's name.

Spine

Title of the book, usually presented top-to-bottom (descending) following the ANSI/NISO Z39.41 and ISO 6357 standards. In rare cases we use the right-to-left (traverse spine title) which is also part of the ANSI/NISO Z39.41 standard.

Back Cover

Description of the book, review(s), ISBN number, barcode and North American pricing.
Which Fonts And Photos Are Used For These Covers?
The fonts used across the front, spine and back book covers are commercial free content from unsplash.com and fonts.google.com.
Although we have tried hard to use only commercial free photography and illustrations in our designs we highly recommend that you review the commercial licenses from unsplash.com/license and google.com/fonts/faq as their conditions may have been updated after we posted this content.
What this PSD Book Cover Template Is Not
Cover designers should be made aware that the front, spine and back book covers are not color-proofed. This PSD also lacks a trim line, bleed and safety line. The front and back book covers are intended for rendering a digital proxy of your 6X9 book with the PSDCovers plugin for Photoshop.
That said, this book template is otherwise a typical PSD design which you can use for whatever purpose you'd like.
How Can I Create My Own 6X9 Book Mockups?
Using PSDCovers you can take your book designs and render them on our free book mockups. To help you get started we are including multiple 6X9 books you can choose from below.
Click on the thumbnails below to view each product page and download your additional free resources.
These books are available in 2 formats, JSX Scripts or via the PSDCovers panel with spinnable player. Click on the thumbnails above to view each product page where you can download your additional free resources.
Grab these free PSD 6X9 book mockups to render your book cover designs.
What Is The Spinnable Player?
Our spinnable player is an open source web app which allows you to click and drag your books to spin within your browser. The spinnable player is provided as open source and has a number of customization parameters which can be configured to your desired use.
For example, the spinnable player can be configured to auto-spin your books when a visitor opens your web page, or it can be configured to work like a slideshow tool. Users who choose to render mockups with our JSX Scripts cannot generate spinnable players.
Spinnable players can only be generated with the PSD Covers panel for Photoshop.
Watch And Share This Book Cover on YouTube
About Book Cover Templates by PSDCovers
The template design of your book cover is the first impression it'll have on your readers. By rendering your cover designs on our mockups you can visualize how your book will look from any angle. PSDCovers for Adobe Photoshop renders your templates in seconds allowing you to iterate through designs faster. Using PSDCovers, you can optimize your designs for print, ebook, marketing or social media events. PSDCovers offers unlimited rendering and what you create is free for personal and commercial use.
Conclusion
With this free 6X9 book cover design you can quickly design and author your own science fiction book cover. While not made to be sent directly to your publisher for printing, this book template will save you hours of preparation work so you can start with a leg up. The PSD is free to download, free to use, fully commercial and royalty free and does not require attribution to us or anyone else.